Editor's Picks
(

1-4

of 8)
Astonishing Places of India : Valley of Flowers
Student of MBA
Hello friends. Valley of flowers is really a beautiful places situated in India. Valley of flowers is a very nice place of Uttarakhand. If you want some adventure in your life then make a trip to go to valley for flowers. It is a wonderful place in dale of Himalaya. This place has a divine feel…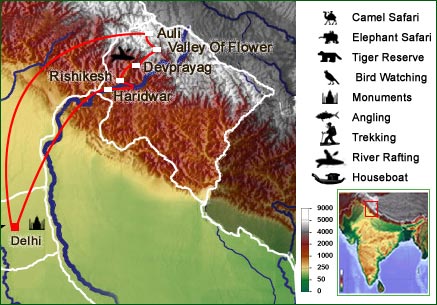 Valley of Flowers National Park is an Indian national park, Nestled high in West Himalaya, is renowned for its meadows of endemic alpine flowers and outstanding natural beauty. This richly diverse area is also home to rare and endangered animals, including the Asiatic black bear, snow leopard, brown bear and blue sheep. The gentle landscape of the Valley of Flowers National Park complements the rugged mountain wilderness of Nanda Devi National Park. Together they encompass a unique transition zone between the mountain ranges of the Zanskar and Great Himalaya. The park stretches over an expanse of 87.50 km².
The Valley of Flowers is internationally important on account of its diverse alpine flora, representative of the West Himalaya biogeographic zone. The rich diversity of species reflects the valley's location within a transition zone between the Zaskar and Great Himalayas ranges to the north and south, respectively, and between the Eastern Himalaya and Western Himalaya flora. A number of plant species are internationally threatened, several have not been recorded from elsewhere in Uttarakhand and two have not been recorded in Nanda Devi National Park. The diversity of threatened species of medicinal plants is higher than has been recorded in other Indian Himalayan protected areas. The entire Nanda Devi Biosphere Reserve lies within the Western Himalayas Endemic Bird Area (EBA). Seven restricted-range bird species are endemic to this part of the EBA.
The Valley of Flowers was declared a national park in 1982. This part of Uttarakhand, in the upper reaches of Garhwal, is inaccessible through much of the year. The area lies on the Zanskar range of the Himalayas with the highest point in the national park being Gauri Parbat at 6,719 m above sea level.
So make a trip to go to valley of flowers, and see the divine place…
Keep reading…